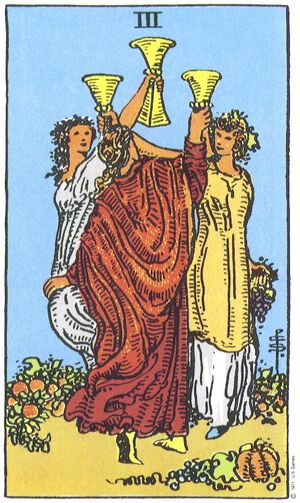 The Three of Cups is an important Tarot card and a recurring motif throughout the series.
In So Mote It Be, the Three of Cups is drawn during Archer's Tarot reading for Kate, helping her to decided to continue her friendship with Annie and Cooper, as well as her Wiccan studies:
"It represents the perfection of friendship and the beginning of something special...only if you make it happen. It seems there are some things standing in your way. You're going to have to make some difficult choices if you really want to achieve what the Three of Cups represents."
The book ends with the Three toasting magic in
In Blue Moon, Annie paints a version of the card putting herself, Kate, and Cooper in the card's figures' places, wearing the same dresses they wore to the Valentine's dance.

Card Gallery
Edit
Community content is available under
CC-BY-SA
unless otherwise noted.